Curbside Hold Pickup FAQs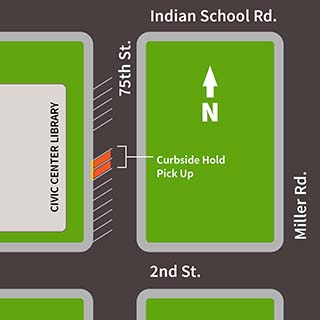 Where is curbside pick-up available?
Curbside hold pick-up will be available at the Civic Center Library location.
Parking for curbside hold pick-up is located to the east of the library building, on the corner of 75th St. and 2nd St.
Drive-thrus are currently operating at Arabian, Appaloosa and Mustang libraries.
---
What time can I pick up my items?
Curbside hold pick-up is available Monday-Thursday 10 a.m. - 6 p.m. and Friday-Saturday 1 p.m. - 5 p.m.
---
Who can use curbside?
Anyone with a Scottsdale Public Library card in good standing may use this service. If you have fines on your account, please call our Call Center at 480-312-READ (7323) to speak with a staff person to see if it is possible to waive your fines. For the safety of our staff, we will not be able to answer any questions about your account during curbside pickup transactions; all inquiries regarding your account must be directed to our Call Center.
---
How do I reserve items for hold pick-up?
Reserve your items online or through the Call Center.
Once your items are available for pick up, you will receive a notification by email, phone, or text. You may pick up held items only during curbside hours.
Head to the specified curbside hold pick-up parking spots on the corner of 75th St. and 2nd St., east of Civic Center Library.
Park in one of the designated spots and call the phone number listed on the sign.
A staff person will answer and check out your items. Please have your library card number ready to give to staff. Staff will bring out your items and place on the designated table.
Please remain in your car until the staff person has stepped away. Once staff have stepped away, you may retrieve your items from the designated table with the matching number of your parking spot.
---
What if all the parking spots are occupied when I arrive?
Please safely observe the laws of the road and wait until a spot becomes available before pulling in.
---
I do not have a car; can I ride my bike or walk over?
Yes, you may use one of the parking spots. Please always maintain a 6 foot distance between you and others.
---
I do not have a cell phone and cannot call from my car. How should I notify staff I am here to pick up?
To maintain the safety of our staff, we ask that patrons who utilize this service have a cell phone to call the library at the time of their arrival. If you do not have a cell phone, please use one of the libraries where drive-thru service is available.
---
What if it is raining?
Curbside hold pick-up will not be available in inclement weather.
---
I have been on hold for the past few minutes; why are you not picking up?
At times, there may be increased volume in curbside hold pick-ups, and we are doing our best to answer all calls in a timely manner. We thank you for your patience and will answer your call in the order that it is received. Any calls placed outside of the curbside hold pick-up hours will be eventually directed to voicemail recording.
---
What safety precautions are the staff taking?
Masks and gloves are provided to staff. The tables will be cleaned throughout the day. Staff will be maintaining safe distance between themselves and the public during curbside service.
---
Can I return my library items at the curbside hold pick-up location?
No returns will be accepted at the curbside hold pick-up location. To ensure the safety of our staff, please return all items in one of the outside return bins located on the main level and lower level of the parking garages.