Get a Library Card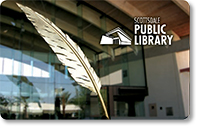 Need to get a library card?
A Scottsdale Public Library card is free for all Maricopa County residents.
(If you live outside of Maricopa County you can still get a Scottsdale Public Library card for a $43.00 annual fee.)
Your library card allows you to check out up to 30 library materials (including books, movies, music and eBooks) and gives you access to online subscription databases. You are able to have up to 12 items on 'hold' on your account, and there is a limit of 6 renewals per item. You can go to any of our five library locations to get your card.
---
Sign up at the library:
Stop by any Scottsdale Library.

You will need to bring a photo ID and proof of current physical address.
If your photo ID does not include your current address, a second form of ID with your address, such as a utility bill, is required.

Parent or legal guardian must present photo ID and proof of current physical address for cards issued to children under the age of 12.
---
See you soon...
We are excited for you to get your Library card. Call us at 480-312-READ (7323). If you have any questions.