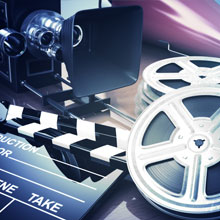 Cinema Then and Now
Are you a movie buff? Attend this three part series by a film historian covering from the 30's to present day cinema with motion pictures as the backdrop.
Tuesday, May 10 at 10 a.m.
Tuesday, May 17 at 10 a.m.
Tuesday, May 24 at 10 a.m.
Mustang Library
Shipping Containers:
You Can Build What With Them?
Little houses are a thing - but how about building with a shipping container? It's the newest phase in this housing trend. See one at an on-site display.
Saturday, May 11 at 11 a.m.
Mustang Library
The Catacombs of Professor McGee
Come visit the real professor McGee at the Gallery at Civic Center Library. How did this house reappear in the Gallery and why? Artist Nathaniel Lewis invites you to come and unearth the mysteries that lie inside the home. For all ages
Saturday, May 28 at 2 p.m.
The Gallery at the Library
Civic Center Library